GDYNIA (PL) - HELSINKI (FIN) and vice versa
For many years, sea transport to Helsinki had been provided by the Polfin Conference consortium, represented in Poland by Pol-Agent. Now, Finnlines Plc took over the management of the connection, creating Finnlines Poland Sp. z o.o.

In June 2009, Finnish shipowner Finnlines launched a new liner connection for passengers and cars on the Travemünde - Gdynia - Helsinki route. The journey on the Helsinki - Gdynia route takes 19 hours.
Ferries from Gdynia leave every Wednesday, Friday and Sunday at 11:00, arriving at Helsinki the next day at 6:45.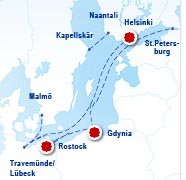 Ferry departures from Helsinki take place according to the schedule every Tuesday, Thursday and Saturday at 20:30 and arrive in Gdynia the next day at 15:00. Ferries from Helsinki continue on to the German port of Travemünde.
The Helsinki/Gdynia and Gdynia/Travemünde lines are served by ships such as 'Star Class', the world's largest ro - pax ferries. These are: MS Finnstar, MS Finnmaid, MS Finnlady, MS Europalink, MS Nordlink. All ships are identical, Super A Ice-Class, built in 2006 and 2007, have up to 4216 meters of cargo lines for trucks, trailers and buses as well as the space for 110 cars and 500 passengers, for whom 200 cabins await. At 218 meters long and 30.5 meters wide, the Star Class type ships develop a speed of 25 knots.
Reservations are through the Pol-Agent office in Gdynia:
POL-AGENT Sp. z o.o. O/Gdynia
Al. Solidarności 1c
81-336 Gdynia
Contact person in Gdynia:
Małgorzata Szcześniak, tel. / fax. 58 621 55 05 mob. 605 113 705
mszczesniak@polagent.com
Reservation Conditions:
When accepting an order, the POL-AGENT company makes a reservation for the ferry on the indicated date and takes on the obligation of ferry cost payment to the shipowner.
You may submit orders through our website ("Online reservations" section), or sending the completed form to fax number 58 621 55 05, as well as through e-mail to the following address: mszczesniak@polagent.com.
Bookings are accepted with a minimum 3-day notice.
After receiving the order, we reserve a space on the ship and send you a booking confirmation, which includes detailed information on the place of ship embarkation, the place of disembarkation, the departure date, loading readiness hours, and the total cost of transport and the payment account number (full prepayment applies). In the confirmation, you will also find the booking reference number.
Ships from Gdynia to Helsinki depart every weekday except Wednesdays (4:00). Readiness to load: 23:30 the day before.
Ships from Helsinki to Gdynia depart every weekday except Sundays (19:00, Saturday 17:00). Readiness to load: 2h before departure.
Passage according to the shipowner's data takes about 27H, provided weather conditions are favorable.
The shipowner reserves the right to change schedules without notice. In the event of lack of spaces or changes in the schedule of calls, we will contact you each time to arrange a new transport date.
Oversize cargo and vehicles
Oversized cargo and/or vehicles (of abnormal size or weight) must be reported in advance. In order to determine the technical feasibility of loading a vehicle with an oversize cargo, please fill in and submit the abnormal cargo declaration form.
Information on the readiness to load of oversized vehicles is provided every time in the booking confirmation.
Dangerous cargo (ADR/IMDB)
Vehicles carrying dangerous cargo (ADR/IMDG) should be reported with appropriate lead time. The client is obligated to provide documentation of cargo - in particular the declaration of dangerous cargo.